Testimonials
John henry.

The trip: Three days sailfishing in Iztapa GUA out of BuenaVistaSportfishing, Oct 27, 28, 29. 29 cat "Monkey Business". Cruised to grounds in low 20's and ride smooth both ways Every day. Days 1 & 2 were good, day three is what GUA sailfishing is all about.

Day 0: Tom forgets passport and has to return home to get it. Misses plane in Atlanta and rebooked on later flight. He arrives GUA 2 hrs. late. Drinks on arrival, snacks by the pool Coconut fired shrimp followed by shrimp Bisque and dinner of fresh grilled Dolphin. Tom looks around place and said "I want to live here"

Lodge: new restaurant & marina complete so you watch captain and mate ready boat while you eat breakfast – Fruit plate followed by eggs, pancakes, bacon. Food top notch Everything much improved. Staff over the top.

Day 1: 6 Am wakeup to coffee and juice before breakfast. Drizzle to light rain during breakfast and ride to grounds. Everybody has tee shirt and shorts rain gear. Warm enough so it's refreshing, not uncomfortable. Lose first sail at 9:15. Capt. & mates teaching Tom to set up and hook his own fish. Tome loses 3, I tag two and Tom loses 1. Tom is practicing on Dolphin – caught a 15 and a 20. Day take: many fish in baits, hooked 5, tagged 2.

Day 2: Same wake up, but overcast and no drizzle. On grounds about 9, a little bumpier than I like but easily fishable. Tom gets 2 more Dolphin , one a 30. The dolphin don't hook easy on circles and we consider them bycatch. His learning is going well – dolphin are good practice. Day total lost 2 tagged 2.

Day 3: sky clear, no breeze. Ocean perfect. Ran about 30 miles and first fish in the boat about 9:30. Two more practice dolphin in 20's then serious sailfishing. Lost 5, tagged 6 lost 1 in tagging attempt at boat side. Two highlights third day. A) found and followed free swimming 20 foot female Orca for several miles. Orca alone and cruising about 9 knots. Blew so close to the boat twice even Deaf john heard it and got some spray. incredible. Tried for pics but digital didn't do too well. B) While following Orca got two on at same time. Got mine first, tagged and away, followed by Tom, tagged and away. By now it's 2 PM and we decided to fish a few more minutes and tagged 2 more singles. Left for home at 3.

Day 4: ate breakfast, packed and went to airport. Easy flights home. In my house at 11:30.

Trip totals: tagged 10, lost one at boat side, hooked 10 more that we saw jump but shook hooks. Broke lines twice. Carried two of my 20 lb. class shark rods. Caught more than half the fish on my two – the orangeieboom was top performer. Had we let mate set up fish, we would have tagged out.

And October is a slow month. Nov is getting good, peak is Jan, Feb, Mar.

We were trolling about 45 Nautical miles off Iztapa Guatemala and the captain saw an Orca about half a mile ahead. We trolled over by it - it was a young female about 20 feet long. She was swimming in a straight line off shore (seemed to know where she was heading and going straight there). She was alone and cruising about 9 knots. Would come up and blow about once a minute and had no fear or interest in us. A couple of times she blew so close to us, even deaf grandpa could hear her. We ran beside her a mile or so and then hooked up two sails at once and pulled off to catch our fish.

That was way cool. The pictures are not great - my little pentax is not good at action shots but you can tell what it is. It was way cool that she did not seem to care anything about us – I know she knew we were there – she just didn't seem to care or mind us being there.

Gives a whole new view to SeaWorld.

Questions – what is a nautical mile? A knot? How did I know it was a female? How fast is 9 knots?

Grand Dad.








Jody

,

Thank you for a fantastic fishing experience (100 sails in three days) and first class service while we were at your lodge. Where else can one step off a boat after a great day of fishing and be greeted by a hostess offering you a drink; be served appetizers twenty minutes later; with dinners of lobster, steak or large shrimp to follow within the hour. Add to the mix maids that wash your clothing and leave it folded on your bed each day. All of this and an active volcano within site of the lodge to boot. It was a great trip with great food on and off the boat – the best and most reasonable of any I have ever taken. We will be back.

Dr. Mo Kalin

Ocean City, MD




Guatemala Contest - By David Sikorski
---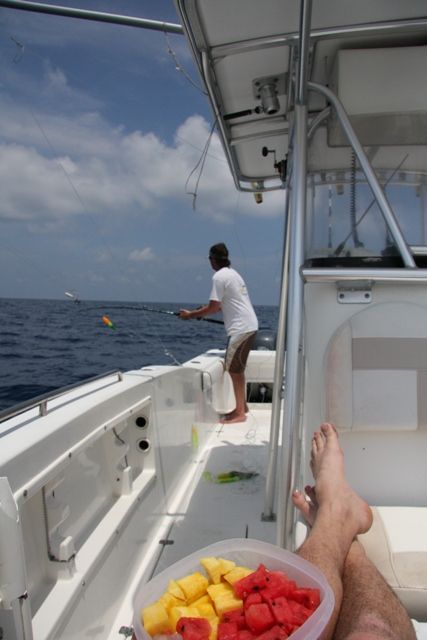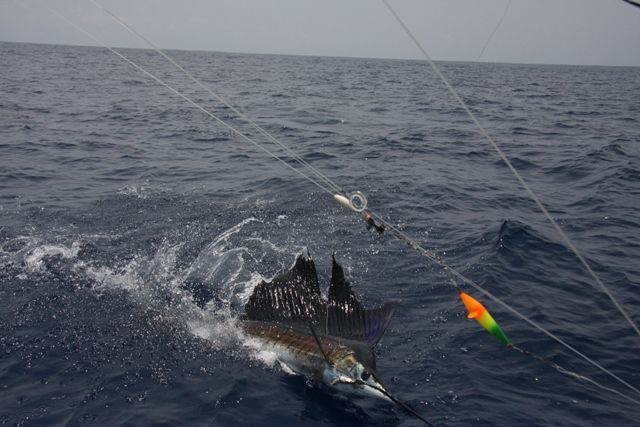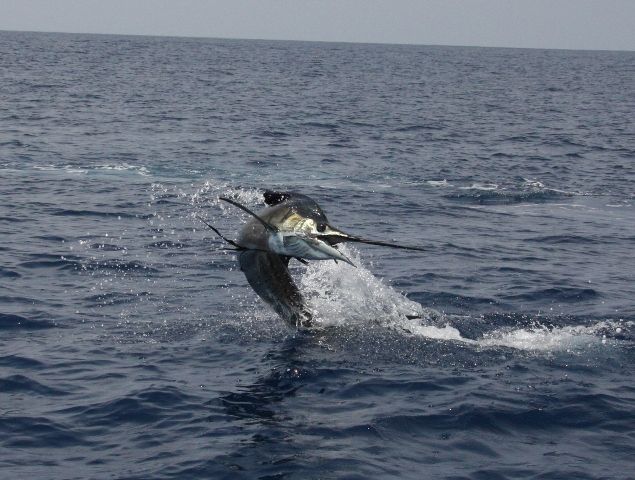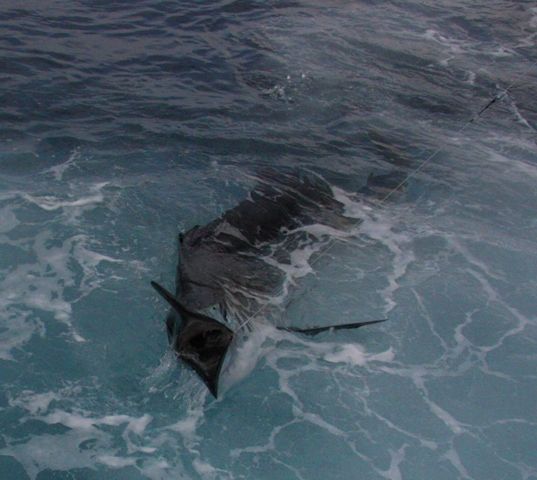 For the next few hours we picked away at the Sailfish, catching two more and missing at least two. Brian was the last to catch a fish for the day, and since it was behaving, both he and Doug took a swim in the deep blue water to see the fish off safely.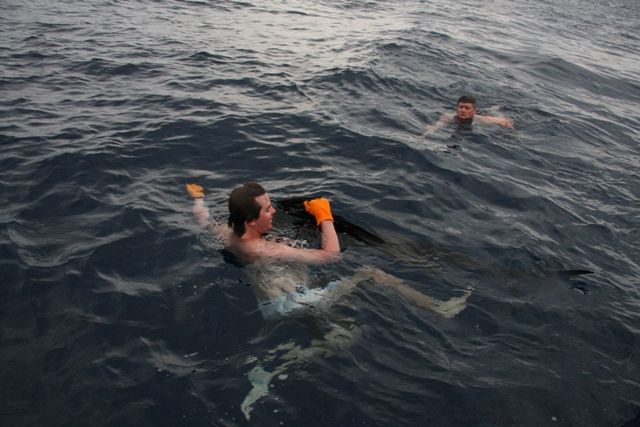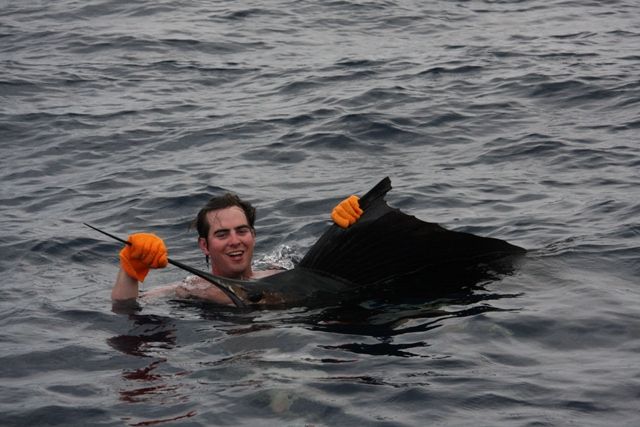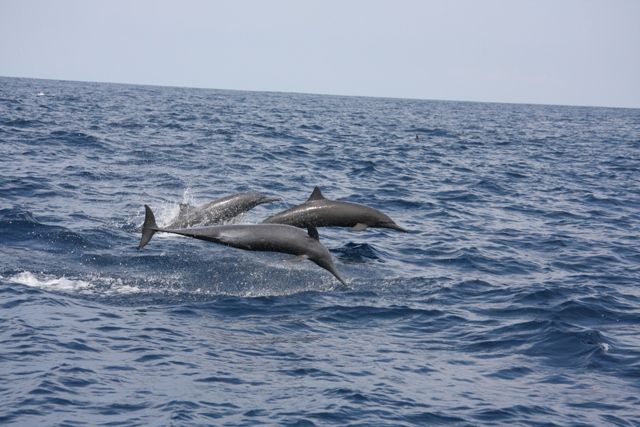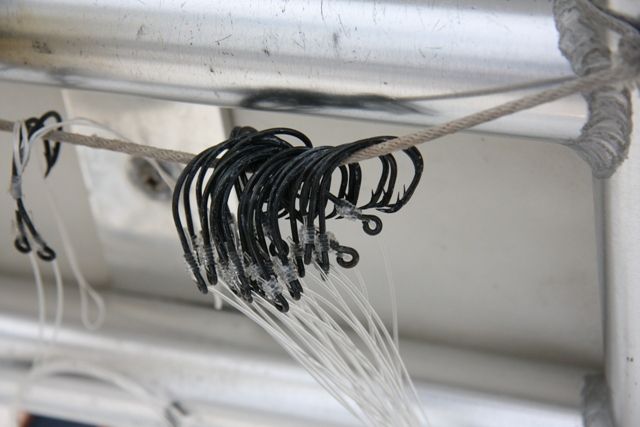 ---
Guatemala Rooster Bite Is Hot
Yesterday, Captain Marcial, mate Danilo, my wife Susy, and her nephew Ulises released seven rooster fish in about three hours of fishing.
We were 7 for 12 bites. In these pictures you can see what the beach looks like.

Today, Herb Gordon of The Weekend Fisherman arrives to shoot a show, so hopefully the bites will stay hot.

On the radio it sounded like the sail fishing was hot as well with most boats getting 30 shots or more.

Captain Jody Elswick
---
Myself, Jim Messina (Alltackle owner), Steve Yuhas (Alltackle OC), and Larry spent four days and five nights at the lodge.

All I can say is WOW. The lodge and employees are all awesome. Fishing was a a bit slow, but nonetheless a great time.

The busy day of fishing we had was 9 for 14 on those big pacific sails. Weather was rough on day two and three of our week, which by Guatamala standards was unusual.

If you get a chance to spend a few days at the lodge, you will not regret any of it!
---
---
---
Greetings Everyone,

I am glad to report that Paradise is still intact at Buena Vista Sportfishing.

Capt "Fito" and his wonderful mate "Danilo" aboard the "Monkey Business" led Nick Bartle, Al Rittmeyer, and Kyavan Ulisys to a total of 30 sail fish raised, landing a total of 14 and two double bites. The weather was a delightful 78 degrees, and the seas were mild running 33 miles out.

Capt Jimmi and mate Gesler aboard Furioso, a 31' Jupiter ran 27 miles of calm fishing close to Monkey Business. Aboard was another group of Maryland fisherman, Bill Pino, Jeff Cox, Glenn Orr, Larry Lee, and Tony Bastista. They hooked into 18 bites and landed 11 sail fish all estimated at 100+ pounds!!! Also landed were two dorado, 20 and 25 pounds each.

As all awaited the snow report from back home in Maryland, several guests reluctantly had to fly home early for business and their families.

Capt. Kevin Owens had to return to Maryland Thursday afternoon, so Monte Elswick and John Treanor drove Kevin back to Guatemala City to catch his flight out.

After leaving Kevin, Monte Elswick and John Treanor toured the city of Guatemala, making their way down to the town of Antigua. We shared a wonderful lunch at an ancient monistery and then toured the grounds for amazing photograph opportunities.

Also in attendance was the President of Guatemala which made for an interesting dining experience.
Friday was another relaxing and fun-filled day at Buena Vista.
Capt Fito and mate Danilo ran the remaining group of John Treanor, Jeff Cox, Larry Lee, Glenn Orr and Bill Pino out for a little bottom fishing. We received a radio report of a yellow fin tuna bite about 35 miles out; we pulled up the lines and headed to the spot. We were amazed to find thousands of spinner Dolphin jumping and flying through the air! We circled the area landing a nice 25-pound Yellowfin Tuna. We later switched back to top water baits landing five large sailfish. The entire group jumped in the water for some amazing photos before releasing the fish!

We turned early to the docks to be greeted with coconut daiquiris, and yellowfin sushi!

The remaining group spent another wonderful evening enjoying kabobs and delightful deserts. We shared our tale of the week while "Jimmy Buffett" played softly in the back ground. After a dip in the pool, we returned to our rooms for another good night's sleep.

We cant say enough good things about the staff at Buena Vista. We all agreed that we had been treated like family, and this relaxing, but action-packed, experience will prompt us all to return to this little bit of paradise that we all desire in our lives.

John Treanor
---

January 2010

Often when visiting a fishing spot for the second time, one can be disappointed with either the location or operator not living up to expectations. As a returning angler to Buena Vista Sportfishing, I am very pleased to say that I was not disappointed in any respect. Everything I remember about the lodge was the same. The new 31' Jupiter FURIOSO was a comfortable, well-appointed boat and now with the boats being docked at the Lodge, there are no more trips to and from the Marina. Captain Marcial showed why he is one of the fleets' top captains, consistently putting me on the fish. Oh, and yes, the fishing...RED HOT! The best day saw 16 sails released, closely followed by another twelve sails released.

Would I recommend Buena Vista Sportfishing to other anglers? YOU BET!

...And once again, I will return.

Alan Wright
Albuquerque

---
May 2009

Greetings Monte & Jody,


I hope this email finds you both in good health and spirits. As usual, I'm fine and doing well.

Please allow me to apologize for not emailing you both sooner. I have been back in Iraq for nearly two weeks but I have only recently returned to my normal area of operations where I have my laptop. Upon returning to Iraq , I spent some time working in the Baghdad area. When I returned to the Mosul area, I found over 1,300 work related emails that needed to be opened and evaluated for action. Finally, I'm at a point where I can devote a bit of time to my personal emails. Aside from immediate family, you two were on top of the list.
I would again like to thank you both and your wonderful staff for the outstanding fishing adventure. Simply put, the trip exceeded my expectations on many levels. The fishing was excellent, the lodge was beautiful, the food was great, your staff saw to our every need. In addition, meeting you both and getting to talk to you on a daily basis about fishing, your future plans, and about Guatemala , was one of the best parts of the entire trip. Mike and I especially appreciated and enjoyed the half day trip to the city of Antigua . The fact that you were able take us there with absolutely no advance notice demonstrated your flexibility and kindness. Even though we came to fish, that side trip was one of the highlights of our relatively short visit to Guatemala . I would also like you to thank Captain Marcial for me. It's great to be on a boat where the Captain loves to fish and is very experienced. This wasn't just a boat ride for him. He lives to catch and release billfish. It doesn't get better than that.


I can only speak for myself, but I'm looking forward to returning to Buena Vista Sportfishing Lodge next April. Currently, it's too early for an exact date, but I will start working on it.

Your friend,
Neal

---
---
Late April 2009
Thank you for an outstanding visit of fishing and relaxation at Buena Vista Sportfishing. The accomodations were new, clean, and beyond our expectations. The fishing was unparralled in my fishing experiences heretofore. A dozen Sailfish hook-ups, eight landings, eleven fighting Dorado's, and five Black Fin Tuna at the end of the season. Who could have asked for anything more? We couldn't. We will be back in February 2010, and I am working on a group of friends and Docs that I talked to you about. By the way, the pod of dolphins we ran into on the second day were the largest I have ever seen. Such beautiful creatures having fun in the sun and racing our boat. My wife caught her first Sailfish and Dorado in her life and fought both without any help from me or the crew. Everytime she was asked if she needed help she responded "NO I want to do it myself." And she did. No small task for a first timer catching sailfish that were as big as she was. Anyway, thanks again for a wonderful time. After we left you, we spent three days in Antiqua. Everyone visiting Guatemala should experience Buena Vista Sportfishing and Antiqua. Unbelievable of over 500 years in Antiqua. Facinating, just facinating. I will write later with information on a pick-up for Hector.
Ted and Magaly
---
April 2009
At last an affordable option for fishing Sail Fish in Guatemala. The Monkey Business is a nice comfortable boat that runs faster than the 40 foot Gin Palaces and you are not sucking diesel fumes all the time that the Captain is aggressively positioning you on the fish. You are fishing the same water, and generally catching as much as the boat next to you that the clients are paying at least twice as much for the privilege.
The Buenavista lodge is ideally situated on the inland waterway that forms Buenavista Island and the setting is superb. Your every need is taken care of, the food is great, your laundry is done and even put away when you come back from fishing. My host, and owner of the lodge Monte Elswick has a story for every occasion and the staff are very attentive. Hector is there to meet you at the airport and drive you the beautiful 60 miles to the coast. You are met by Monte, shown to your room and then sit by the bar and pool and enjoy the surroundings, until it is time to eat and then retire to a room as good as at any fish camp you will stay in.
Then there is the fishing WOW !!!! on a bad day in Guatemala you will catch more than on a good day in many other Central American destinations. The Captains are as knowledgeable as anywhere else, and work with you on your technique for the bait and switch fishing.
I WILL RETURN
Thanks to all. Alan Wright Albuquerque, NM.
---

Claudia Weitinger April 2009

Can you imagine-a week long brand new love affair for three 60+year olds? It is true. From the moment we came thru the brand new, welcoming airport to the time we departed, we were captivated. We were met on time by two wonderful drivers who took care of our every need for the picturesque journey thru Guatemala City to the coast. We were fascinated with tiny taxis, heavily armed policemen, native clothing, and private enterprise everywhere. The moment we arrived, we were royally greeted, shown our rooms, and fed one of Carolena's delicacies even though we had refreshments along the road. Happy hour at Buena Vista becomes enchanted hour sitting at the poolside bar listening to dropping mangoes and a Spanish speaking parrot. Dinner is a three course affair.
On our first day of fishing, we were really impressed with Monkey Business, the crew, and the beautiful Pacific Ocean. I began to remember some of my history lessons about the peaceful ocean. We were enchanted with the large sea turtles basking in the sun-some with birds perched on top ot them. The turtles seemed to wave at us as we passed. Now I know they were wishing us good fortune at fishing. It takes a while to put out the equipment for trolling, but once the action started, it was hard to keep from hooping and hollering. The sailfish were indeed hungry and they got larger and larger. The three of us took turns-none of us had ever caught a sailfish although we are seasoned fishermen. The excitement grew with each and every fish. Thank goodness for a camera or else I wouldn't think it was real. The fellows kept track of the numbers, while I rested my biceps.
The second day, the seas were rough, but out we went to successfully catch and release more beautiful fish. Monkey Business has lots of room for playing a fish and lots of shade. We were so fortunate to find lots more fish immediately. The action was so hot and heavy that we often would say, "No, It's not my turn. It's yours."
Can you imagine that by the third day, we wanted to fish for smaller creatures and closer in. I was fascinated by the handliners and the many boats and motors that were well used. We caught Spanish Mackeral, redsnappers, and a grouper.
Everyday the meals were abundant, beautifully presented, and fixed with care. Every effort was successfully made to cater to our wishes. The seafood and fresh fruits are addictive.
Monte and his staff are to be congratulated for working so hard and making it seem so easy and natural. I hated to say adios.
---
April 1 2009
Darius Petrauskas, who traveled all the way from Lithuania to fish with Buena Vista Sportfishing (866-699-3277;www.buenavistasportfishing.com), also near Ixtapa. He gives particularly high marks to Capt. Jody Elswick: "Jody and his beautiful wife Suzie are what we appreciated the most and will long remember from this trip," he writes. "These happy, attentive, always smiling people made our trip a success even before we started fishing!" Petrausaka also notes that the fishing was spectacular, with 23 sailfish landed out of 29 hooked and 33 raised on the first day. A similar number was raised on the second day. "Wonderful lodge, fantastic food, excellent staff. I am glad I found this not so widely advertised operation," Petrauskas concludes. He gives the cost of his trip as $1,795 US per person/ double occupancy for the three-night/two day fishing package.
---
---
---
March 10, 2009
Dear Jody,
I just wanted to drop you a letter to thank you for taking such great care of our group last week. Many of the six of us go on fishing trips together each year, and it is always an adventure. We have fished in many places all around the world, but none of us had ever been to Guatemala. I have enjoyed annual fishing trips to Costa Rica since 1989, but I was constantly hearing that the fishing was better in Guatemala so I had to give it a try.
As you know, I spoke with several lodges, clients and captains in Guatemala before deciding to fish with you out of your lodge. Since I was the group "organizer" for this trip, I wanted to make sure that everything went as expected for my friends. I received great comments from everyone I spoke with about your operation – and they were right. The lodge was very spacious, comfortable and clean. The food and drinks were way beyond our expectations, and the service was phenomenal. I can't emphasize enough how important the service was to the success of our trip. Of course we were there for the world class fishing, but the guys are still talking about the service of your incredible staff. Please share this letter with all of them because they really do represent you well.
I am also mailing you a great DVD that my son made from a collection of our pictures. Some of Susy's pictures turned out great and I included them in the DVD also. Keep up the good work. I hope to see you again soon.
Best wishes,
Jeff Ciuba
---
Some of you may recall that I posted an inquiry last week asking for recommendations to fish in Guatemala. I was there on business and was able to set aside a day for fishing. I was referred to Buena Vista by several people and coincidentally was connected to Capt. Joe Riley who happened to be fishing out of Buena Vista. I made arrangements to spend Friday night there, fish on Satruday, and leave Sunday morning. (My father-in-law came along last minute because he's always wanted to see Guatemala).
We arrived at Buena Vista on Friday night after a lot of driving and two full days of work-related meetings. We were greeted by about 8 guys drinking cold ones and sharing fishing stories. We then ate a great meal consisting of fresh fish, steak, fish soup, and fresh vegetables. The place was nice, clean, and the beers were cold and plentiful. There is a swimming pool, wireless internet, and delicious food. We then made arrangements to meet up in the morning and head out.
On Saturday morning, we left for the marina at about 6:30am and the crew on the Fat Cat (a 30' catamaran) consisted of myself, Capt. Joe Riley, Paul Winters and George Winters from York PA, John Seckinger, and our mate, Chavelo. We stopped to get some live bait fish about 10 minutes out before running about 25 miles to the fishing grounds. The guys schooled me on the art of "feeding" the ballyhoo back to a fish chasing the teasers and letting him run with it before tightening the drag and starting the fight.
After about 45 minutes, we had a hit on the rigger and I let him take line before setting the drag. Before I knew it, I had my first-ever billfish hooked up! The fight was unbelievable and the aerial show was amazing. We brought the fish up for a quick pic and released him. A few hours later, I had the experience of a lifetime. Paul was hooked up with a fish caught on the rigger and we cleared the lines. I dropped a live bait in and let the Shimano Baitrunner do its thing. Within seconds, the line was screaming! After about 7 seconds, I was hooked up. I couldn't believe that I had just live lined a sailfish! We brought it boatside and released it. Overall, we caught 5 (or 6?) sailfish and saw 9. For Guatemala standards, that is supposedly a bad day, but it was an incredible day for me.
On the way in, I saw Jody, the owner of the lodge, with my father-in-law in a 23' panga, trolling for mackerels. My father-in-law is the most seasick person I've ever known, and he was out there trolling up macs with Jody! I was blown away. Jody worked really hard to make him comfortable and really made him happy. The next morning, we only had 2 hours before heading out, and Jody took us out on the panga to catch three more macs in about 30 minutes. I wish I could have stayed longer, but I had more work to do during the next few days.
I own a coffee company and buy coffee from many countries around the world and have been to the mountains of Guatemala before. I was born in Guaemala and had no idea about the incredible sailfish action out there and regret not making a trip to the coast before. In that one day, we must have seen over 50 sailfish free-jumping, along with about 100 turtles, and a huge whale that we think was a humpback.
Buena Vista is a beautiful, relaxing place and Jody will take care of you above and beyond any expectations that you may have. I met a bunch of great guys and had a blast. I plan on making a detour there every time I have to go back to Guatemala and I recommend that if you plan a trip out of the country to fish, you consider Buena Vista. I can't think of enough positive things to say about Jody's hospitality.
http://mayorgacoffee.com/coffeetalk/...ilfishguat.wmv
---

I just wanted to let you know what a great time i had at the lodge.The fishing was fantastic and the staff at buena vista were excellent.This was by far the best vacation ive been on.Im also greatful to have been a part of your b-day party which topped the trip off.Im taking your advice im walking slower and with more purpose and ive got a better plan when i get there(guatemala,styling).Im going to try to keep this with me for long as i can thanks again. Bill Dailey 3/10/09


---
Dear Jodi and Susie, we had a great time despite four days of difficult fishing by Guatemalan standards..we are very spoiled anglers having caught many billfish all over the world.. expectations were high but the fish took a siesta, and we were here for that rare occasion. But, your lodge more than made up for the slower fishing…the staff, food, and rooms were perfect.. the pool was perfect nad everyone's obvious desire to make us feel at home was always apparent.. fishing is not always catching…it takes time to realize that… we shall return.. thanks, the Sherman boys, jim mcguire and joe maz mustari… special thanks to your newest captain joe riley.. he was the best.. thanks adios..
---

Tim and Kim Miller, Edgewater, Maryland, USA, spent 3 days fishing and 1 day touring La Antigua city the second week of February. The first day out Tim wanted to catch some roosterfish inshore. We went out about 7 miles to see if we could catch some snapper and grouper. While trolling we came upon a misplaced sailfish. Our captain, Marcial, thought it was a shark because it was not where a sail would normally be. Tim hooked the sailfish and brought it in. The bill was missing and that probably explains why he was not where he should have been. Who knows!
Marcial and the mates were very professional and knew right where the fish were. We also had a guest captain with us, Joe Riley, from Edgewater, MD. Joe is famous for his charters in Ocean City, Maryland. It was our first time meeting Joe but heard from friends that he is pretty famous in Maryland.
Thursday we went out 35 miles SE for some sails. We landed 8 dorado out of 10 (we think). Saturday we headed SW, and we landed 2 out of 4 sailfish (Kim's was missing part of the bill, Tim's had a full bill). We landed about a dozen or so dorado. Fish for all!!!!
Everyone at Buena Vista Sportfishing Lodge were spectacular. We had met Monte Elswick at a Maryland Fishing Show last February and in August Tim made up his mind he wanted to go to Guatemala. Mike Bailey walked us through making the arrangements. He answered all our questions and then some.
Jody and Sussy were spectacular hosts. Very gracious and accommodating. The lodge staff were wonderful and very attentive. Sergio, Hector, Isabel (fantastic chef), Susanna. The best service ever!!!! It felt like being with family. We loved the 2 dogs, Milky and Honey and the new bird (not named yet).

On our tour day we went to La Antigua. Antigua is a beautiful town and definitely worth the visit. Very European looking. Jody and Sussy took us to some furniture stores, a Jade store/museum and the market. Sussy really knows her shopping! We ate lunch at an old Monastery made into a restaurant/hotel. Beautiful. I could have spent another day there wondering around. But Tim had more fishing to do!
Tim & I really enjoyed our time in Iztapa, Guatemala. Definitely worth coming back (next time to tour more of the country)! Kim
---
"Deep sea fishing in Guatemala is selected as one of Men's Journal's 100 Greatest Adventures. This tempting slogan has hammered my mind for quite a while. How did I do? Let the numbers tell the true. 35 sailfish released (out of 50 hooked and 60+ raised) in two days of fishing! To be precise, 22 on 1st day and 13 on 2nd. 2 dolphin caught on the first day too. Incredible numbers! The score on the 2nd day could have been bigger, but after spotting a jumping marlin, we spent good 2 hours chasing him. Had a bite, though did not hook him up. Also, on the second day our wives were on the boat, so everything went in much more relaxed atmosphere. I fished with Buena Vista Sportfishing. Two thumbs up for this operation. It is not only the most affordable option to experience deep sea fishing in Guatemala, but the level of the service has exceeded my expectations by far. Excellent property, very well organized schedule, delicious food; boats, tackle, captain and mates - absolutely top class. We were treated not as clients, but simply as family members. They organized sightseeing tours according to our request, and Suzie even accompanied us to Chichicastenango market, what my wife appreciated a lot. She thought she did much better on shopping than me on fishing! :-)
To summarize, I can hardly imagine the place on the planet where deep sea fishing can be so good, and look no further than Buena Vista Sportfishing if you want to experience excellent personalized service at affordable rates. On this trip, besides Chichicatenango, we also visited Tikal ruins, hiked on active volcano Pacaya, visited beautiful lake Atitlan, as well as colonial city Antigua. All sights are much recommended. Here is the link to a photo album:

---
Hi!
I am a Canadian tourist who visited Guatemala for the first time in late Dec. 08. My girlfriend, Charlene & I are in our early 50's & a bit adventurous. We hiked Pacaya Volcano when we stayed in Antigua to see the lava flowing near the top.
I love to deep-sea fish. I have travelled to numerous Central American countries (including Mexico & the Keys). Guatemala tops them all.
Jody (Your owner/host) made arrangements to have us picked up at our B&B in Antigua. His driver (Hector) drove us directly to the boat which was ready to go at the harbour. Everyone was waiting for us. Jody made certain that there was sandwiches, snacks & cold beverages on board.
It didn't seem like hardly any of the morning had passed & I was horsing in this huge Sailfish! By the end of the afternoon I was pooped !! 10 Sails raised to the Teasers & 5 landed definitely catch & release). Also 3 Dorado (Mahi-Mahi). They tasted delicious when they were cooked up later on that evening. The Captain & Mate received their share too!
We returned to the main lodge in the late afternoon. The Honeymoon Suite was at our disposal. It welcomed us with a cold bottle of champagne & fresh-cut flowers decorating the enormous living area. A wrap-around porch was connectedby to a huge Tiki-Hut style outdoor private dining area. Several hammocks beckoned for relaxation. After a hot shower we snacked on delicious Dorado Fingers with Honey Mustard sauce. We then joined the rest of the group downstairs on the main level for some socializing around the Big Screen TV. There was also an outdoor pool adjoining a huge outdoor bar. The kitchen area was in a totally separate buiding. Jody's wife Susy & her cooking assistant did a wonderful job providing us with breakfasts & fabulous dinners. I could go on & on about the cooking. American style mixed with Guatemalan. Very, very good!
I also inspected Jody's new condo unit. It is brand new & very spacious. Six separate sleeping quarters with large adjoining bathrooms.
It was great waking up in the morning & sipping on coffee while watching white egrets lazily flying down the river estuary bordering the front of the property. High walls around the rest of the grounds provides ample security.
On our final day there we tried for the Blue Marlin. Jody wondered whether I had enough strength left to fight one of those Big Blues. I was gung ho !!! Jody warned me that we only had a 30% chance of catching one of those elusive monsters. We trolled miles of gorgeous sea but only managed one more Sail & 2 Dorados for dinner. Although we failed on my 2nd day I was not disappointed. We took some awesome pictures of Porpoises dancing in the wake of our boat & untold numbers of Sea Turtles & Seabirds. The twin outboards got us back in record time.
The next morning I was disappointed to leave the sunny & warm coast for the cool mountains of Panajachel. Hector again proved a capable driver delivering us to our next adventure.
Go for it !!!
Ralph Dick & Charlene
I'll be back!

---